SGH (Super Global High School)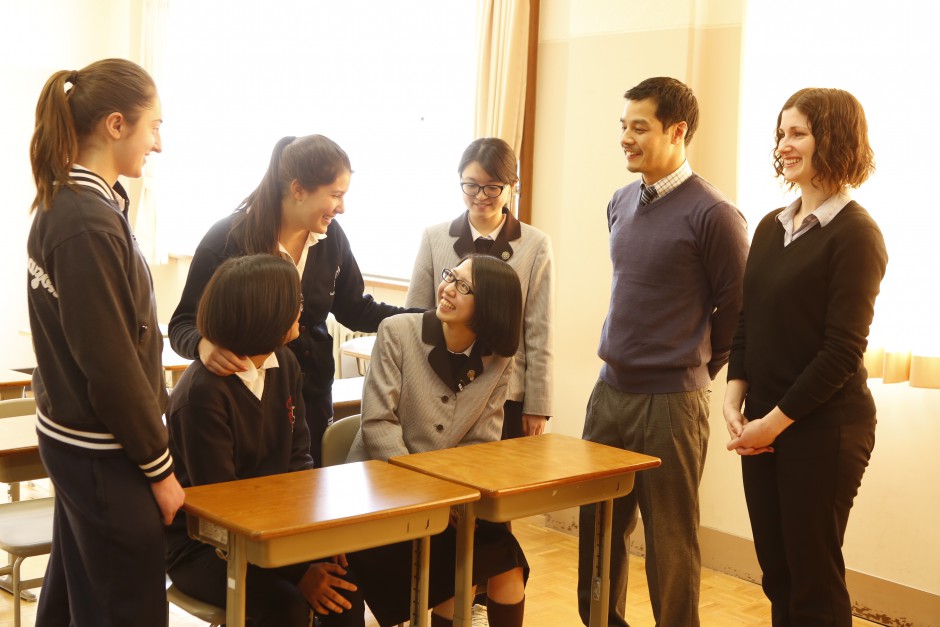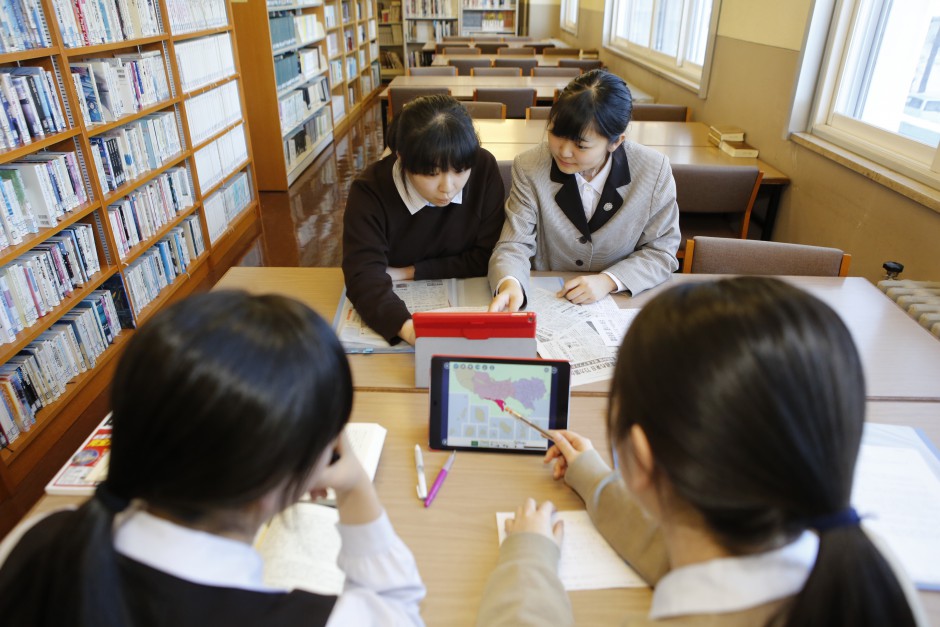 We think education is transformative. The 21st Century needs peace makers who can lead the world in bringing about change through open dialogue. We believe that the very essence of being human lies in the ability to sympathise with the pain of others, and to find ways to solve the problems that cause this pain.
Young people in Japan need to participate in the globalized world by empathising with others, and living in harmony with people from different background and cultures. We found a role model in Mrs Sadako Ogata, the UN High Commissioner for Refugees in the 1990s. She said, "Peace that exists solely in your country is no peace, because every nation's fate is bound up in that of others."
Young people in the 21st Century children will face unpredictable future, full of unforeseen problems to solve. Thus they need not only knowledge and information, but also the ability to apply what they know in the real world.
Our students have been given opportunities to deepen their awareness by experiencing social welfare courses, as well as development and human rights programs. On top of this, our students are exposed to programs on sustainable development and coexistence both in Japan and overseas at international workshops. With our Super Global High School programs, we will foster young people with skills based on awareness of themselves and others, and help them to contribute to the realization of a sustainable society.
the Academic Year 2014 Super Global High School Initiative
Research Theme
Active Dialogue Towards Achieving Global Coexistence
Research Outline
1. Strengthen the task-oriented research our school has been carrying out as part of our overall studies program.
2. Coordinate our task-oriented research according to the two themes Coexistence with Others and Coexistence with
  Nature.
3. Organize the goals and results of our overseas fieldwork programs according to the aforementioned two themes.
4. Carry out research and training in order to further develop our students' communicative competence in English.
5. Strive toward the development of global leaders with both critical thinking and presentation skills.
Research Content
"(Overall)
(1)Goals
To raise global leaders by building their task analysis and presentation skills through our school's research program of Attempting Task-based Research Towards 'Coexistence with Others' and 'Coexistence with Nature'
(2) Hypotheses to understand the current state of education, and develop research.
Beginning with our academic year 2014, we aim to enable our high school first year students to develop logical problem solving skills. In order to do this, our students will tackle new global issues, bring their solutions into practice and present their opinions. For this to happen, it is necessary to increase their logic, as well as focus on problem solving skills.
(3) Dissemination of Results

①For use by our school
②For use by universities and businesses
③To use towards building a cooperative relationship with elementary schools
④To provide information to other schools
⑤To enabling parental understanding

(Theme-based research)
(1) Content of theme-based research
Content of theme-based research in order to apply our research into the global issues of Coexistence with Others, and Coexistence with Nature, we envision the research development proceeding as follows:

①Coexistence with Others

a) Research issues of the relationship between minority and majority populations as well as the national administration. Further explore Coexistence with Others by studying the Ainu people and gaining a deeper insight into a minority population close to us.

b) Research the root causes of concerns surrounding refugee and immigrant populations across the globe. Select and research countries with large refugee and immigrant populations in order to gain a deeper understanding of the issues surrounding Coexistence with others, national immigration policies and inclusion.
②Coexistence with Nature

a) Gain a deeper understanding of the environmental issues surrounding the lack of resources. Basing activities on the method of Reduce, Reuse, Recycle as a way to build awareness of problems regarding resources and conservation.

(2) Methods/Validation

① Methods Study will consist of two units from the academic year 2014. In order to gain a deeper understanding of Coexistence with Others and Coexistence with Nature, we will develop a unique academic curriculum using new units within the two unit structure.
② Validation Students will develop a personal understanding of study goals through the distribution of a rubric at the beginning of every activity. This will clearly outline the goals, abilities targeted and expectations for that activity.
 - Visit international NPOs and the United Nations to collect information.
 - Prepare to present statements regarding both common and individual problems through dialogue.
③ Presentations Take part in presentations both at school and beyond.
Issue evaluations according to the rubric in order to raise individual awareness of changes in their thinking and behavior.

(Others)
(1)Research development activities that fall outside the task-based research framework by taking part in research on Coexistence with Others and Coexistence with Nature through extracurricular activities and studies abroad, students will gain the elements of character that characterize global leaders, such as the ability to feel compassion for others. (2)Setting up an environment for the development of global leader with activities that fall outside the academic curriculum: - Student-lead educational initiatives at elementary schools
- Workshops by foreign exchange students introducing their home countries
- Workshops lead by foreign born faculty on global issues
- Increasing long and short term exchange programs
- An open door policy for foreign exchange students
- An open door policy for students working as volunteers on gap-years
- An open door policy for foreign educated Japanese returnees
- Active participation in various contests
- International events
(Remarks)
1. Participation in study tours to universities Developing a global perspective mainly through study activities with sister universities. 2. Participation in the United Nations study tour(Little Raiza Project) Understanding one's role in the global community with the United Nations at its center. 3. Volunteer activities Researching the results of charity fundraising projects by the school. 4. Receiving feedback from outsiders and taking part in external training and development activities. "