History
| | |
| --- | --- |
| 1800 | The Society of the Sacred Heart was established in Paris, France. |
| 1801 | The first convent school of the Society was established in Amiens, France. |
| 1908 | The Society of the Sacred Heart opened its first school in Japan, Tokyo. |
| 1963 | Sapporo Sacred Heart School was established、as the seventh school in Japan (Junior School and Middle School). |
| 1966 | High School opened. |
| 1969 | English Finishing Course (Eigo Senkoka) opened. |
| 1973 | Junior School closed. |
| 1997 | English Finishing Course (Eigo Senkoka) closed. |
| 2006~2008 | Appointed by the Ministry of Education, Culture, Sports, Science and Technology as Super English Language High School. |
| 2012~2014 | Appointed by the Ministry of Education, Culture, Sports, Science and Technology as one of the five schools in Japan to conduct research on Education for the 21st Century including International Baccalaureate methodology. |
| 2013 | Global Class and Sophia Science Class were established. |
| 2014~2019 | Appointed by the Ministry of Education, Culture, Sports, Science and Technology as one of the 56 high schools in Japan as a Super Global High School. |
The Paintings of Mater Admirabilis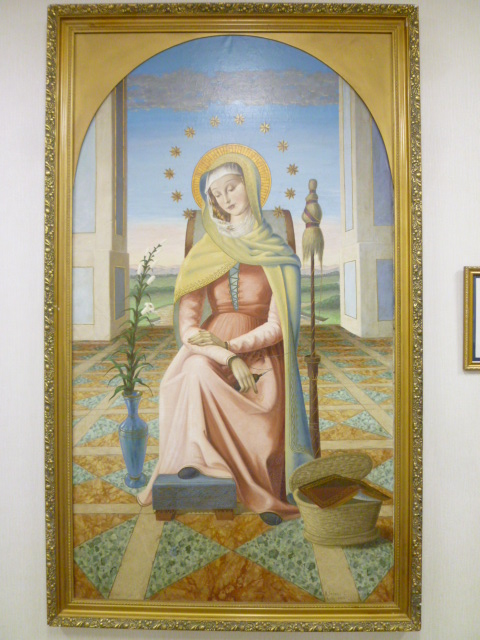 The painting of Mater Admirabilis symbolizes our philosophy.
The original fresco of Mary, known as Mater Admirabilis, or Mother Most Admirable, was painted in Trinitá dei Monti (then Sacred Heart school), at the top of Rome's famous Spanish steps. It was painted in the middle of the 19th Century by a young French artist, Sister Pauline Perdreau. Mater was much-loved for its beautiful color, but especially because this image of Mary as a young woman symbolized the qualities St. Madeleine Sophie wanted Sacred Heart students to acquire.
From the first school started in Amiens, France, in 1801, Sacred Heart schools have spread all over the world. And wherever in the world you enter a Sacred Heart school, you will find a reproduction of this artwork illustrating the foundress's idea of education.
 The background shows early morning, symbolizing hope for the future. A young Mary is resting from her work, perhaps praying. In the basket at her side is an open book, representing her interest in her studies. The spindle illustrates the importance of serious work that would bring happiness to the loved ones.. In other words, a basic attitude toward life must include prayer, thought, labor and action.
The lily beside her expresses the virtue of purity and also adoptability. Just like Mary, who, trusting in God, nurtured life and treasured it, the picture known as Mater is a symbol of the dignity and mission of all who strive to respond to the love of God and of others.